Books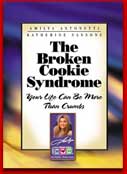 The Broken Cookie Syndrome:
Life Can Be More Than Crumbs
is the second book written by Katherine for a client. It was her responsibility to develop this life theory created by her client and "put it to paper" so that readers could grasp the concept, have a "fun read" and begin making the steps towards change.
Excerpt:
Many if you were taught by family, business associates, friends, etc. that if you are easy going, flexible, understanding and willing to put yourself second you will reap the rewards by being "the nice one". Well, the truth is, many of you may still be waiting for the scales to swing in your direction! Many times this is not how life plays out, which may leave you feeling taken advantage of, used and very often disappointed in others as well as yourself. Why? Because you have just taken the broken cookie.
Why David Hated Tuesdays
was co-ghostwritten by Katherine with contributions by the author. It was Katherine's responsibility to tell the story in the authors' words and work with Prima Publishing (then a division of Random House) to create a book that told the story while offering good, better and best choices to rid your home of chemicals and toxins.
Excerpt:
Good, Better, Best: Countertops for the Kitchen
Good: when preparing food, keep off countertops by placing on a plate, napkin, or wooden cutting board.
Better: Use a natural cleaner that does not corrode the countertop or leave a chemical residue.
Best: Choose a natural countertop material such as stone, granite, marble, tile, or wood.
Better Choice Mom Recommends
Get rid of your kitchen sponge! It is a breeding ground for germs, bacteria, and your basic yuck! Use 100% cotton washrags, a mere $2.99 for a bag of 25 that can be thrown into the laundry at the end of the day. Or purchase paper towels.